AC to DC POWER CONVERTER
Pulse Radar applications
Model: BC-30K
ELECTRICAL SPECIFICATIONS:
Input:
480 VRMS, Three Phase, 57-63 Hz
Power Factor 0.99
Outputs:
DC Outputs
+32.7 VDC @ 228 Amperes Max.
Ripple & Noise < 150 mV p-p
+5 VDC @ 17 Amperes Max.
Isolation:
Input to chassis: 20 Meg @ 1000 VDC
Output to chassis: 10 Meg @ 20 VDC
Weight:
120 pounds Max.
Protection/Status BIT
Over-voltage
Over-current
Over-temperature
Cooling:
Forced Conduction Cooling
Temperature:
Operating: -40°C to +50°C
Non-Operating: -40°C to +85°C
Shock IAW MIL-STD-810D
Vibration IAW MIL-STD-810D
EMI/EMC IAW MIL-STD-461E
Size:
19" x 24" x 17.5"
Adequate mounting and cooling required
Extended multi year warranty available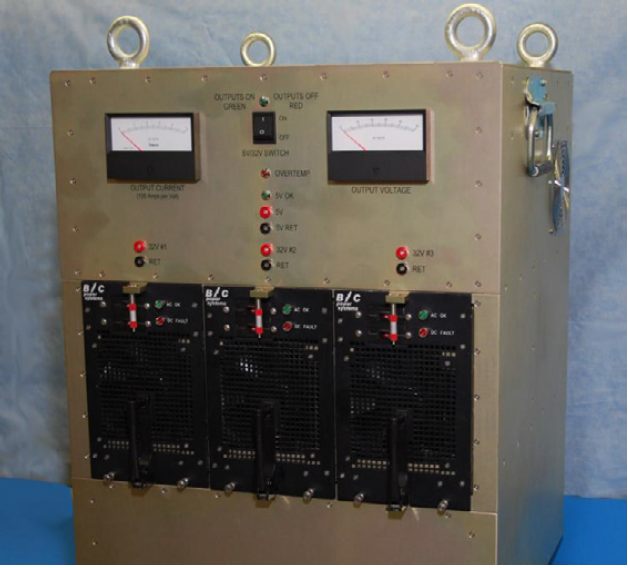 30KW  OUTPUT POWER
120 LB WEIGHT
PULSE RADAR
BC Systems Inc., is a designer and manufacturer of military power supplies, using the latest solid state device technology to achieve reliable specification compliant products. Power supplies are designed to meet or exceed customer specified environmental requirements. Military applications include all service platforms: ground, air and shipboard. Power supply technical qualifications are based on our vast experience in the design and manufacture of power supplies.
BC Systems Inc employs innovative packaging and thermal management techniques which are manufactured onsite providing enhanced production process control. Our complete in-house manufacturing capability provides our design and manufacturing team with the advantage of supplying products that achieve maximum performance, in the smallest package possible, within schedule requirements.
BC Systems is a small, Veteran owned business serving the U.S. Government and U.S. Military for over 30 years. BC Systems' specializes in Military Power Supplies and Airborne Power Control Products.