VOLTAGE REGULATORS
BC Systems p/n 94189-1
DESCRIPTION:
This Generator voltage regulator is designed to comply with the requirements of MIL-R-23761/2B P/N M23761/2-1 and MIL-R-23761B.
This unit is a solid state direct current voltage regulator used to regulate and control aircraft engine driven 28VDC generator.
SPECIFICATION DATA:
Regulation:
+.5VDC of the nominal voltage setting in the range -of 26.5 to 28.5 VDC.
Field Current:
 8.0 AMP Continuous 12.0 AMP Overload
Parallel Operation:
This unit is capable of parallel generator system operation with another M23761/2-1 regulator and generator.
Equalizer Operation:
To maintain equal current sharing in parallel operation the equalizer circuit has the following characteristics.
EQUALIZER VOLTAGE
TERMINALS 0 TO EB
0 to –l v
0 to +.165 v
12 x Equalizer Volt Max
+.165 to 1.0
GENERATOR VOLTAGE
= Nominal +.3V Max.
= Nominal– 16.7 X Equalizer Volt Min
12 X Equalizer Volt Max
= Nominal – 10% Min 8% Max
ADJUSTMENTS:
Equalizer:
The unit contains an equalizer adjustment pot accessible at the top of the unit, clockwise rotation will increase the unit portion of load current sharing when in parallel operation.
Voltage:
The unit contains a voltage adjustment which is accessible by removing a seal screw on the top of the unit. This will permit voltage adjustment of the generator in a range of 26.5 to 28.5 VDC.
Test Jacks:
Two M39024/10 test jacks permit monitoring of the generator voltage directly at the regulator unit for test purposes.
Temperature:
Ambient Operation -55c to +171c (class A) Non Operating -55c to +85c
Terminal Strip:
The unit contains an MS27212-2-7 terminal strip used for connections to the generator system. It is supplied with an MS18029-25-7 cover and each terminal stud contains one each, MS14151-2 Flat Washer, MS35338-157 Lock Washer, and MS35650-304 Nut. Each stud can accommodate two terminal lugs per MIL-T-7928.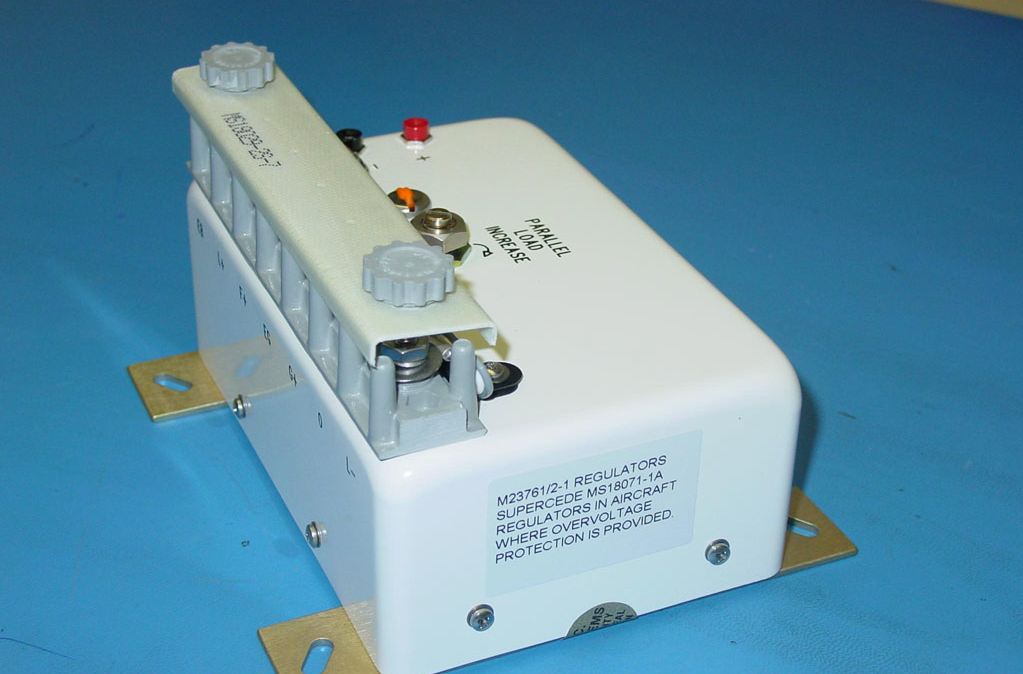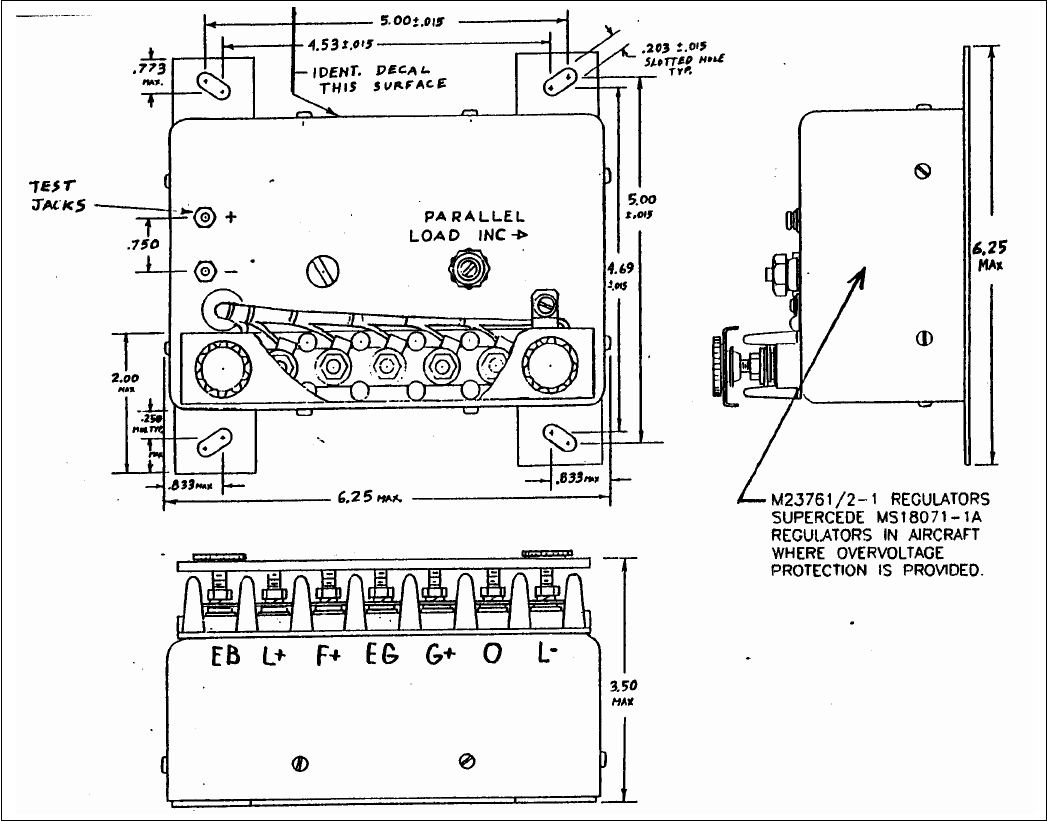 BC Systems Inc., is a designer and manufacturer of military power supplies, using the latest solid state device technology to achieve reliable specification compliant products. Power supplies are designed to meet or exceed customer specified environmental requirements. Military applications include all service platforms: ground, air and shipboard. Power supply technical qualifications are based on our vast experience in the design and manufacture of power supplies.
BC Systems Inc employs innovative packaging and thermal management techniques which are manufactured onsite providing enhanced production process control. Our complete in-house manufacturing capability provides our design and manufacturing team with the advantage of supplying products that achieve maximum performance, in the smallest package possible, within schedule requirements.
BC Systems is a small, Veteran owned business serving the U.S. Government and U.S. Military for over 30 years. BC Systems' specializes in Military Power Supplies and Airborne Power Control Products.